Natural-Looking Results with All-Ceramic Restorations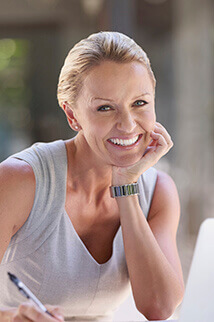 Dental restorations can be made from a variety of materials, including metal, gold, and a combination of porcelain and metal. As durable as these materials are, they don't have the most natural appearance. That's why Dr. Chaney offers all-ceramic restorations. With these restorations, it's possible to receive the care you need with results that look beautiful and natural.
Essential Care in Just Two Visits
Patients receive care with a dental crown or bridge complete treatment in just a couple of visits to one of our Fayetteville dental offices. On the first visit, we prep teeth and attach temporary crowns. These temporaries protect your teeth while the lab works on a permanent restoration. When your all-ceramic crown or bridge is ready, you return to have your procedure finalized.
Would you like to learn more about all-ceramic restorations and their benefits? Dr. Chaney would be happy to answer your questions during a consultation. Call one of our Fayetteville offices today to speak with one of our team members. We look forward to helping you.