Dental Crowns & Bridges Completing Fayetteville and Johnson Smiles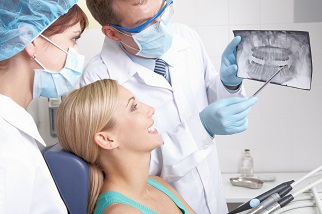 Dental crowns and crown supported fixed bridges are two simple restorations that dentists can rely on to repair smiles following a variety of oral health issues. Available in a wide range of materials, dental crowns and bridges can be used to fix a tooth following severe decay or damage, protect a root canal treated tooth, and create a flawless, natural smile. If you're in need of dental restoration, contact Don M. Chaney, DMD and his dedicated Fayetteville dentistry team at DMC Dental. We'll want to get to work restoring your smile right away to avoid the spread of damage and get your smile whole and healthy again in no time.
What is a Dental Crown?
A dental crown is an advanced restoration that fits completely over the top of a damaged or decayed tooth to repair the full strength and structure of the tooth. We can create dental crowns using a wide range of materials to ensure patients have a long lasting, flawlessly repaired smile. Dr. Chaney may place a dental crown in a wide range of situations including:
To repair extensive tooth decay or damage too severe for restoration with a more conservative filling
To protect and strengthen a root canal treated tooth
As part of a cosmetic dentistry plan to conceal and correct smile flaws
As part of a fixed bridge or dental implant supported tooth replacement restoration
What is a Fixed Bridge?
A fixed bridge is a prosthetic used to replace one to three missing teeth in a row. The prosthetic tooth or teeth are fused to two dental crowns. The crowns are then attached to healthy surrounding teeth for support. The final result is a flawless, natural looking smile.
How are Dental Crowns & Bridges Placed?
Both dental crowns and fixed bridges are placed over the course of at least two treatment appointments. During the initial visit, the area around the treated tooth is numbed. Then, we prepare the tooth or teeth by removing any damaged structure or necessary enamel to allow the crown to fit over the remaining tooth parts without changing the natural smile line. Next, we capture bite impressions that will be used by our lab to craft your custom crown or bridge. To protect your prepared teeth until the custom restoration arrives, we affix a temporary. Once the final, custom prosthetic is received from the lab, you'll return to exchange your temporary for a custom crown or bridge.
Dental Implant Crowns & Bridges
Patients with one tooth or a few consecutive missing teeth can repair their smiles with a dental implant supported crown or fixed bridge. A single dental crown or two fused together dental crowns can typically be attached to a single implant post. For three or more consecutive teeth, the row of fused together replacement teeth will be anchored by an implant post at each end. This allows us to repair your smile without the need to remove healthy tooth structure to provide support for the fixed bridge.
If you have any questions about root canal therapy, or you need relief from dental pain, please contact us today for an appointment.