Experience Invisible Orthodontics with Fayetteville Invisalign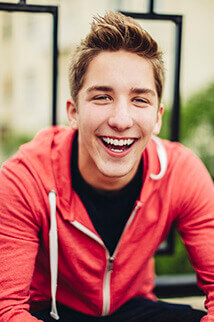 For some patients, having a straight smile feels like a distant, unattainable goal because they don't want to wear traditional braces. Thankfully, traditional braces aren't the only way to have a straighter smile. With Invisalign, it's possible to achieve beautiful results without drawing attention to your treatment.
Invisalign is a special cosmetic braces system that uses clear trays instead of metal brackets and wires to help patients straighten teeth. Every Invisalign patient receives a kit containing a series trays precisely designed to bring teeth into the ideal position. Each tray is worn approximately two weeks, each bringing the patient closer to his or her goal.
Besides being clear, Invisalign's trays are removable. This lets patients remove them for meals and for brushing and flossing. With traditional braces, caring for your smile and enjoying your favorite foods are often difficult, but that's not the case with Invisalign.
Is Invisalign Right for Me?
For patients who need to make minor changes to their smile, Invisalign is a great option. For those with more advanced needs, traditional orthodontics may be the right option. Dr. Chaney can help you understand your specific needs with a consultation at one of his Fayetteville dental offices. Call us today to reserve your visit.