Restorative Dentistry for Fayetteville & Neighboring Communities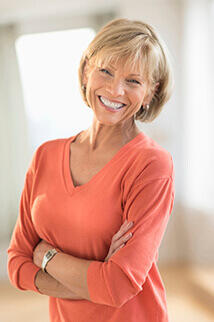 When you come to DMC Dental for restorative care, you'll be treated with compassion. We understand how life-changing certain dental problems are and do our best to restore your smile to what it was before. Some common dental problems include cavities, infected tooth roots, and even lost or broken teeth. With our comprehensive restorative solutions, we help you tackle these problems and enjoy good oral health again.
Dental Crowns and Bridges
If you have a decayed or cracked tooth that can't be repaired with a filling, Dr. Chaney can help you restore it with a custom-made crown. Dental crowns are placed over vulnerable teeth, protecting them from additional harm. The full treatment process is typically completed in two visits. In the first, our Fayetteville team designs the crown, preps the tooth, and places a temporary over the prepared tooth. In the second, we remove the temporary and attach the permanent crown.
A bridge is a restoration that uses multiple crowns to replace a missing tooth. Your bridge (replacement prosthetic) features a replacement tooth bookended by one or two crowns known as abutment crowns. These crowns are placed over healthy teeth bordering the gap you need to fill, and stabilize the entire restoration. As with dental crowns, the treatment process with a dental bridge typically takes just a couple of appointments.
Call one of our Fayetteville dental offices if you'd like to learn more about treatment with a crown or bridge. Dr. Chaney would be happy to answer your questions and make a personalized treatment recommendation.
Learn More
Root Canal Therapy
Deep decay or a traumatic injury to one of your teeth can cause an infection to develop within your tooth. Left untreated, the tooth may die and need to be extracted. To preserve your tooth and ease painful symptoms, Dr. Chaney performs a root canal. During a root canal, the infected portion of the tooth is removed. Your tooth is then filled with gutta-percha, and covered with a protective crown, restoring your tooth's functionality and appearance.
Learn More
Wisdom Tooth Extractions
Even though wisdom teeth develop naturally, our jaws don't always have room for them. Allowing them to erupt can result in painful problems like crowding or impaction. With that in mind, our Fayetteville team offers wisdom tooth extractions. With a simple procedure completed in one of our high-tech offices, Dr. Chaney removes wisdom teeth before they jeopardize your oral health and wellbeing.
Removable Prosthetics
If you need to replace multiple teeth or a full row of teeth, let us talk to you about a removable prosthetic. Patients missing a few teeth can have a complete smile again with a custom removable partial denture while patients who need to restore a complete arch should talk to us about a full denture. In both cases, you enjoy quality results that improve oral health, wellbeing, and confidence.