Dental Implants for the Fayetteville, Johnson & Wyman Area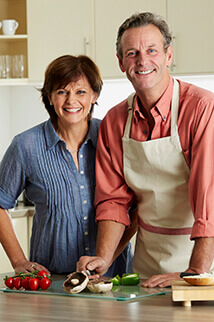 Do you need to replace a single missing tooth? Are you unhappy with the partial or full denture you've been wearing for years? At DMC Dental, we're proud to offer restorative care with dental implants. This revolutionary service is a great alternative for patients who don't want to wear a traditional denture.
The Dental implant structure mimics natural tooth-root structure. Because of this, patients with implant-retained prosthetics enjoy more lifelike results. Implant-retained crowns and dentures also look beautiful. With these benefits in mind, you can expect outstanding results with dental implants.
The Treatment Process
Treatment with dental implants is completed in two phases. In the first phase, an oral surgeon surgically places one or more titanium implant posts. Following this surgical procedure, a process known as osseointegration takes place. During osseointegration, implant(s) fuse with jawbone forming a stable bond that mimics the bond between the jaw and a natural root. Your surgical procedure takes one appointment to complete, but the osseointegration process can take several months.
Once a bond is established between implant and the jaw, the second phase of your treatment begins. In this phase, Dr. Chaney attaches the prosthetic to your implant(s). This service is versatile enough to work with a crown, bridge, partial denture, or even a full denture.
Should I Consider Dental Implants?
While not everyone is a candidate for dental implants, we invite anyone who wants to learn more to call one of our Fayetteville dental offices. We would be happy to complete a full oral exam to determine whether implants are right for you. If you're not a candidate for implant placement, we would be happy to recommend an alternative solution based on what we find. Call us today to schedule a consultation.