Dental Implants – Fayetteville & Johnson, AR
Replacing Teeth with Strength and Comfort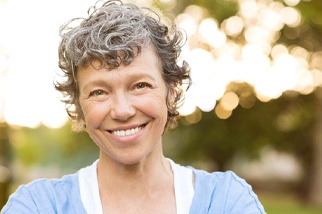 Do you need to replace a single missing tooth? Are you unhappy with the partial or full denture that you've been wearing for years? At DMC Dental, we're proud to offer restorative care with dental implants. This revolutionary service is a great alternative for patients who don't want to wear a traditional denture.
Dental implants mimic your natural tooth-root structure. Because of this, patients with implant-retained prosthetics enjoy more lifelike results. Implant-retained crowns and dentures also look beautiful. With these benefits in mind, you can expect outstanding results with dental implants. Keep reading to learn more about this unique replacement option.
Benefits of Dental Implants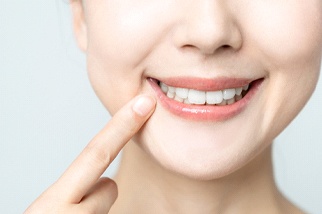 Dental implants come with a unique set of advantages that you won't receive with other options, including:
Indications for Dental Implants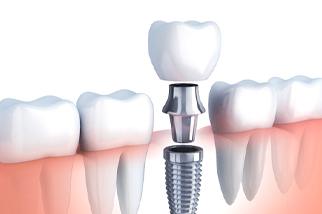 Another reason your dentist in Fayetteville & Johnson offers dental implants is that they can be used to replace one tooth, multiple teeth, or even your whole smile. The number of implants that you require will influence the type of restoration that we use to complete your smile.
Missing Single Tooth
For a single missing tooth, we can use an implant-retained crown for a lifelike replacement. Our dental crowns are custom-made to match the natural size, shape, and color of your smile, creating a seamless replacement.
Missing Multiple Teeth
Are you missing multiple teeth consecutively? You could benefit most from an implant-retained dental bridge. This option uses dental implants on either side of your gap to support a personalized prosthetic that literally "bridges" the space in your smile. The results are a beautiful and functional set of teeth.
Missing All Teeth
For patients who are missing all or most of their teeth, implant-retained dentures are the best solution. Using an average of four dental implants, we can support an entire row of teeth for a stable and full smile replacement. That means no more slipping and sliding dentures, and best of all, its strength and stability will allow you to eat all of your favorite foods.
Understanding the Cost of Dental Implants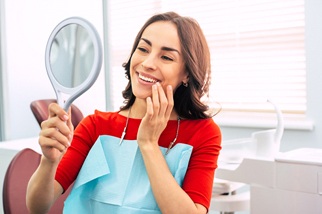 Unfortunately, the cost of your dental implant treatment is hard to determine without examining your mouth first. There are many variables that can influence price, which is why the best way of receiving a precise estimate is to schedule a consultation with Dr. Chaney. He will carefully check the condition of your oral health, the number of teeth you're missing, and the strength of your jawbone. It's also important to understand that the type of restoration that you need will also affect the overall cost of your treatment. At DMC Dental, we accept insurance and have financing options to give our patients quality care at an affordable price.