Meet Your Fayetteville Dentist
Don M. Chaney, DDS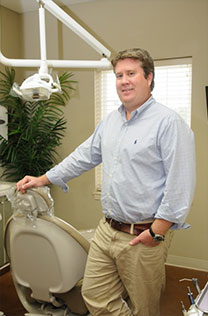 Originally from Benton, Arkansas, Dr. Don M. Chaney attended the University of Fayetteville, where he graduated with a degree in microbiology. Dr. Chaney then went on to study at the University of Tennessee in Memphis, where he received his Doctor of Dental Surgery degree.
Dr. Chaney completed his studies in 2001. Afterwards, he worked as an associate dentist with Monarch Dental in Fayetteville, Arkansas for two years. In 2003, he began building his private practice. Since then, he has devoted his career to giving patients the attractive, brilliant smiles they deserve with an equal commitment to preventive, restorative, and cosmetic dentistry services.
In addition to the excellent services he provides, Dr. Chaney is a member of the Arkansas Dental Association and the American Dental Association. He is also an active supporter of various national and local charities.
Dr. Chaney is proud to be living and building his career in Fayetteville and especially enjoys cheering on the Razorbacks and the St. Louis Cardinals. When he's not helping patients achieve optimal oral health, he enjoys spending time with his wife, his children, and their three dogs.