Professional Teeth Whitening Brightens Johnson, Fayetteville & Wyman Smiles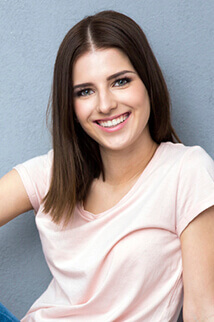 Does the thought of smiling make you uncomfortable? For patients who have stained or yellow teeth, the idea of letting other people see their teeth can cause a serious anxiety. There is good news: with professional teeth whitening, patients experience renewed confidence a whiter smiles.
What Causes Tooth Stains?
While some patients struggle with severe staining, the truth is everyone experiences some tooth discoloration. It's inescapable because most stains are caused by the foods and drinks we consume every day. Other causes range from aging to tobacco use and even some medications.
Over-the-counter products offer some hope against these stains, but in most cases, the best solution is a professional whitening system, like the kind you can find at our Fayetteville dental offices.
Our Solutions
At DMC Dental, we offer both in-office and at-home whitening options. In-office whitening lets us give you beautiful results in just a single appointment while at-home whitening lets you brighten your smile when it's convenient for you in the comfort of your own home. Which is right for you? Dr. Chaney would be happy to help you answer that question during a consultation at one of our offices.