February 27, 2017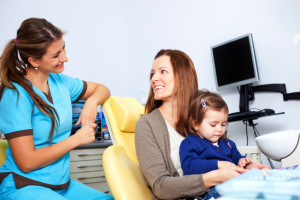 Too often, the importance of oral health for children is underestimated. A child's dental health is vital to setting the right foundation for caring for their teeth as an adult. With the health of the teeth and gums directly linked to overall health, maintaining a child's oral care is critical to ensuring their dental health throughout all stages of life. To raise awareness about the importance of dental care for children, February is National Children's Dental Health Month. As a children's dentist in Fayetteville, we support the cause to educate parents and caregivers to properly care for their child's teeth.

Importance of Children's Oral Hygiene
Often, parents tend to believe oral hygiene habits for children are not as important as they are for adults. However, this is not true. Even though the primary teeth eventually fall out, they still require care. The primary teeth help to promote the health and the development of the adult teeth, while also acting as place holders. Healthy baby teeth are vital for helping a child learn to eat and speak correctly.
Properly caring for the baby teeth teaches children the importance of oral hygiene. Research shows that children who have good oral habits as a child are more likely to have good habits as an adult. As a result, this helps to reduce their chances of gum disease and tooth decay throughout their life.
Children need to brush their teeth twice a day using an ADA-approved fluoride toothpaste. All surfaces of the teeth need to be cleaned for at least two minutes each session using a toothbrush that accommodates the size of their mouth. They also need to floss daily to remove plaque and tarter from areas that cannot be reached with a toothbrush.
Home oral hygiene habits that are combined with a healthy diet will further enhance the healthy development of the teeth, while teaching the importance of dental health.
Importance of Regular Dental Care
In addition to home care, the American Dental Association recommends all children over the age of two visits the dentist twice a year for preventive care. Every six months, your child needs their teeth professionally cleaned and a comprehensive examination performed. By doing so, we can detect dental problems sooner for early intervention. In addition, we offer preventive treatments, like dental sealants and fluoride treatments, to further protect the health of the teeth.
When a child establishes a relationship with their dentist from a young age, they are more likely to maintain preventive appointments throughout their life. It is proven that preventive care is vital to reducing the need for invasive or costly dental procedures in the future. Your child will learn the importance of visiting the dentist regularly to ensure a lifelong healthy smile.
Dr. Don M. Chaney wants to see your child have the right foundation for a commitment to their oral health throughout their life. In addition to preventive care, he will help educate you and your child about the best methods and techniques to maintain dental health. Call today to schedule a consultation.
No Comments »
No comments yet.
RSS feed for comments on this post.
Leave a comment