December 15, 2016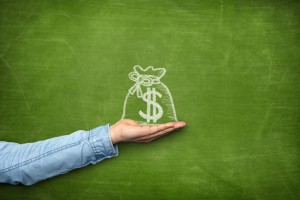 This is your favorite time of year as the entire city gets covered in lights and holiday music. However, it can also be a bit stressful. Gifts and trips can be expensive, and it can be easy to forget to take care of yourself. One of the most basic things you can do is take care of your teeth by seeing your dentist in Fayetteville, Dr. Don M. Chaney . In fact, you could save yourself thousands of dollars by doing so before the end of the year.
Wait, how?!
It all comes down to how dental insurance works. About 60% of the country has dental insurance, yet hundreds of billions of dollars in benefits are lost each year.
Many plans provide a certain dollar amount of coverage each year. This amount resets on January 1st and does not roll over. Any unused money simply goes back to the insurance provider.
How much money do people lose?
The average amount of coverage is about $1,500 per person, but most people only spend about $150 a year on dental care. That means 90% is simply lost. You probably spend more on your premium. This amount is supposed to cover two check-ups and cleanings per year, as well as any other procedures that might be needed. Once January 1st rolls around, you will have to pay your deductible again before you can have access to your benefits. This means that you might have to pay for procedures you easily could have had covered simply because you waited.
This is a loss not only in dollars, but in important care as well.
What You Are Missing
Dr. Chaney recommends that everyone should have at least two check-ups and cleanings each year to maintain their oral health. Dental insurance is intended to help stop problems before they start, which is why most plans cover standard preventive care like this 100%.
When you miss out on a cleaning, you are increasing your risk of tooth decay. This is because your teeth have many hard to reach surfaces you simply can't clean with standard brushing and flossing. A professional cleaning is able to address these problem areas and protect you from cavities year around.
Standard check-ups are also a significant part of preserving your oral health. They give Dr. Chaney the chance to catch any dental issues you might have early. Common problems such as tooth decay and gum disease can be very difficult to spot during their early stages.  Early detection will enable Dr. Chaney to use more conservative treatments, saving you from expensive restorative procedures that could lead you to pay out-of-pocket costs.
Your time is precious at this point in the year, and the last thing you need is an unforeseen dental issue. It can make enjoying the holidays very hard. A check-up before the end of the year can give you one less thing to stress about, and your insurance will probably cover it.
Time Is Running Out
Now is the time to use all of those benefits you have already paid for before they're gone. We will always work with your dental insurance provider so that you can get the most out of your benefits. We'll even file the claim for you! We'll make it as easy as possible for you to use your dental insurance, so don't hesitate to call us today and get the care that you need.
No Comments »
No comments yet.
RSS feed for comments on this post.
Leave a comment