February 5, 2018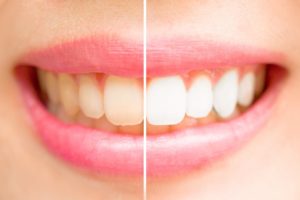 If you've had teeth whitening done in the past, you're probably familiar with the sensitivity that's pretty common afterwards. Maybe you weren't as satisfied with the results you received at a previous office. As it turns out, not all in-office or take-home whitening treatments are created equal. However, today that changes with the new teeth whitening in Fayetteville your dentist provides. Introducing, the GLO Whitening treatment!
Once you arrive, you'll quickly find out that GLO Whitening works harder and better to give you a smile many shades whiter, even for the toughest stains! To learn how you, your friends, and your family can benefit from GLO Whitening's treatment, take a moment to hear your dentist out!
How GLO Whitening Stands Out Among the Rest
Thanks to the patented GLO technology developed by world-class engineers, designers, and oral health expert and aesthetic dentist Dr. Jonathan B. Levine, you can get better results in your teeth whitening treatment. No need for messy trays or taking impressions; in as little as half an hour, teeth whitening in Fayetteville will have your smile prepared the next time you need to show it off.
GLO Whitening works through a mouthpiece which combines LED light, heat resistors and custom active whitening agent. In a self-contained system, GLO traps oxygen and prevents it from leaving the teeth, allowing the gel to be as effective as possible. During application, the mouthpieces heats ups to accelerate and activate the process efficiently and with little to no sensitivity afterwards.
Select Your Preferred Method for Added Convenience
For your convenience, GLO Whitening offers multiple ways to get the job done. One of the most popular options is a combination of GLO in-office and take-home whitening to make your whiter smile last as long as possible. If you'd prefer to only whiten at home, you can take the same technology used in-office with you, along with extra G-Vial gel containers for regular touchups.
Additionally, your cosmetic dentist in Fayetteville also offers the G-Vial Whitening Gel Delivery System for easier and more precise application. The formulated gel does not spread to soft tissue or gums, so you won't feel any sensitivity upon application. It's also hermetically sealed so you know it will remain fresh until opened.
Whether you're a teen getting ready for school pictures or a senior trying to remove stains resulted from aging, GLO Whitening can provide the solution with better results. Schedule an appointment with your dentist today to learn more!
About the Author
Dr. Don M. Chaney earned his Doctor of Dental Surgery degree from the University of Tennessee in Memphis before working as an associate dentist in Fayetteville. Two year later, he opened his own practice and continued to employ techniques in preventive, restorative, and cosmetic dentistry for patients. To learn more about GLO Whitening and his practice, contact him at (479) 435-6400 or visit his website.
Comments Off

on Introducing a Brand-New Kind of Teeth Whitening in Fayetteville
No Comments
No comments yet.
RSS feed for comments on this post.
Sorry, the comment form is closed at this time.