March 3, 2018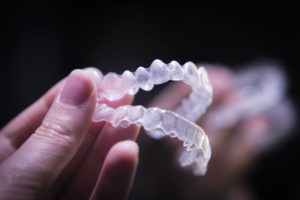 We understand if you couldn't pursue orthodontic treatment for many years. We also understand if you already had braces placed many years ago but didn't wear your retainer often enough to keep your teeth straight. Regardless, we know you may have questions about your eligibility to use Invisalign in Fayetteville. To put you at ease, just know that it's not so much age that affects your ability to use Invisalign. While the treatment may be slightly different than what your teenage son or daughter must go through, it can still work just as well.
The Key to Successful Treatment
Many people believe they are two old for orthodontics, but, age has nothing to do with your eligibility to use Invisalign. In those terms, it's never too late to use clear aligners. The fact is, bone density is far more important to your cosmetic dentist than age. The more bone density you have, the more successful the procedure will be.
However, if certain teeth have lower bone density, those teeth may not move as easily as teeth that do have sufficient bone density. Luckily, your dentist has reviewed many cases in the past and can better determine if more traditional braces are needed during your consultation.
How You Will Differ from Younger Patients
In some cases, even if they are eligible for Invisalign in Fayetteville, older patients may need to wear their clear aligners a bit longer than younger patients. However, this is not necessarily a universal rule all dentists follow. In fact, this simply goes off a trend of what many Invisalign providers are seeing with their own patients.
Younger patients tend to have healthier mouths and therefore are more likely to see faster results when using clear aligners. If you see your dentist regularly and your teeth are healthy, you're far more likely to have your teeth effectively straightened in the same amount of time as a younger patient.
Meeting the Minimum is Mandatory
While Invisalign in Johnson is perfectly usable by teens, it's not always recommended for younger teens. This is mainly because effective results require a large amount of dedication and commitment, which younger patients may not understand initially when it comes to orthodontics. If they are willing to accept the fact that they'll need to wear the aligners between 20 and 22 hours a day, then they are far more likely to achieve straighter teeth.
Adults usually understand the commitment needed to make a change in their smile, especially if they had orthodontic work done previously. The concept for Invisalign is very simple. The longer you wear your clear aligners, the faster the treatment will go and the sooner you'll have straighter, healthier teeth.
Don't wait too long to get the smile you've always wanted. Schedule a consultation with your dentist today to learn if Invisalign is right for you!
About the Author
Dr. Dom M. Chaney earned his Doctor of Dental Surgery degree from the University of Tennessee in Memphis. Since completing his education in 2003, his highest priority has been to provide patients a smile that is just as healthy as it is beautiful. To learn more about Invisalign treatment or about his practice, contact him at either of his locations through his website.
Comments Off

on Learn Today If Invisalign in Fayetteville is Right for You
No Comments
No comments yet.
RSS feed for comments on this post.
Sorry, the comment form is closed at this time.