July 25, 2017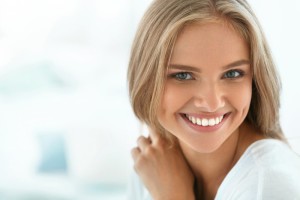 A person's confidence has to come from somewhere, and for many, it all starts with their smile. When someone meets you, it's your smile that makes the first impression before you even say a word. However, if your teeth have noticeable flaws such as stains, chips, or gaps, they may feel more like a liability and prevent you from really showing the world who you are. Fortunately, there is a specific kind of dentist that knows exactly how to give you a gorgeous smile. A cosmetic dentist has a variety of treatments they can use to enhance your teeth's appearance in just about every way imaginable, and we're going to discuss some of them today.
Teeth Whitening
This is the most popular cosmetic treatment by far, and it's no wonder why: people with pristine white teeth are usually thought of as attractive, intelligent, friendly, and professional. If your teeth have been stained by coffee, wine, tobacco, or natural aging, teeth whitening can instantly turn that around. The professional treatments offered by a cosmetic dentist are much stronger and reliable than anything you can just pick up at the store. Typically, they'll have two options. With in-office whitening, you can make your smile dramatically brighter in as little as an hour as your dentist applies and reapplies a powerful bleaching agent to your teeth.
Or, you can use an at-home treatment, where your dentist will supply you with a custom-made set of mouth trays and a bleaching gel that's much stronger than anything you can buy yourself. All you need to do is use the kit as directed for a few days until your smile reaches the desired level of whiteness.
Porcelain Veneers
If you have multiple cosmetic flaws you'd like to have addressed, such as stains, cracks, gaps, or even slightly crooked teeth, porcelain veneers are the best way to fix them all at once. They are custom-made thin ceramic coverings that are fitted to the front of the teeth, and you can get an entire set to transform your smile in as little as two visits to a cosmetic dentist.
Tooth-Colored Fillings
Traditional-metal fillings always leave a large gray mark on a tooth and make it more sensitive to hot and cold temperatures. This is why many practices are choosing to use tooth-colored fillings, which are made of a strong, durable, and malleable composite resin. As the name suggests, it can be specially shaded so that it matches your natural tooth color exactly. The material is applied to the teeth in a liquid form and then quickly hardened using a curing light.
All-Ceramic Restorations
For a severely damaged or misshapen tooth, a dental crown is usually the best way to fix it. They can be made of a number of materials, but for the most natural-looking results, a dentist will use an all-ceramic one. Dental ceramic is one of the most advanced materials in all of dentistry, and not only does it look just like real enamel, but it can also be just as strong or stronger. A dentist can use one to give you a completely new tooth in just two visits.
Invisalign
Looking to get your teeth straightened but don't want metal braces? Then Invisalign is the treatment for you! Rather than using brackets and wires, it utilizes a series of custom-made clear plastic aligners to gently straighten the teeth. A patient simply has to progress from one nearly invisible aligner to the next to straighten their smile in the most discreet way possible.
How Can I Get These Treatments?
All you need to do is consult with a cosmetic dentist in your area. During your initial appointment, you'll get to discuss your personal smile goals, and the dentist will be able to determine which treatment or treatments will help you reach them. Then, in just one or two appointments, you'll get the smile you've always wanted, and you'll be absolutely amazed at how it will completely revitalize your appearance.
About the Author
Dr. Don M. Chaney is a general, restorative, and cosmetic dentist based in Fayetteville, AR. He uses cosmetic dentistry to completely transform smiles every day, and he just loves how it can improve a person's self-esteem in such a short amount of time. He currently practices at DMC Dental, and he can be reached through his website: www.drchaneydds.com.
No Comments »
No comments yet.
RSS feed for comments on this post.
Leave a comment