August 10, 2018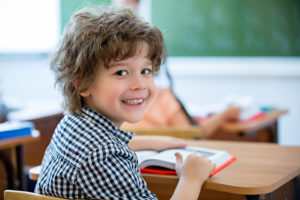 The long, sunlit days of summer are fast coming to an end. As you are preparing this year's back-to-school checklist, be sure to ask yourself: will your son or daughter be smiling on their first day back to class? According to the Centers for Disease Control and Prevention, tooth decay is the most common chronic disease for children ages 6 to 19. Including a trip to a dentist in Fayetteville as part of back-to-school preparations can help ensure your child is ready for the new school year. To learn more about the importance of regular dental checkups, take a look at the blog post below.
How a Healthy Mouth is Linked to Academic Success
Maintaining good oral health can be key to maintaining good grades. Pain and discomfort caused by toothaches or other dental problems can be serious distractions and make it difficult for your young son or daughter to focus in class. A child with a toothache may feel less comfortable actively participating in class discussions or answering teachers' questions – and their grades could suffer as a result.
Furthermore, any time spent outside of the classroom due to dental pain could contribute to your child falling behind their peers. Each school year, children with dental diseases miss more than 50 million hours of school, according to the American Dental Association. A back-to-school checkup is a good opportunity to identify dental issues early on before they develop into larger problems that could cause your child to miss significant time from school.
What Occurs During a Regular Dental Checkup?
The American Dental Association recommends scheduling regular dental checkups every six months. Here are a few reasons why seeing a dentist on a regular basis is a good idea:
Hidden Problems – As stated above, tooth decay is a very common condition among young children. In fact, nearly 1 in 5 school-aged children have untreated tooth decay. A checkup at the dentist's office can uncover small dental problems before they worsen.
Oral Hygiene – A back-to-school appointment is an opportunity for your child to have their teeth expertly cleaned by a dental professional.
Mouth Protection – If your child plays organized sports, ask their dentist about getting a custom mouthguard to help protect their teeth. If they already have a mouthguard, a dentist can check the condition and fit during their next appointment to make sure it is still adequate for their growing mouth.
Preventive Treatment – A trip to the dentist is also a good opportunity for you to ask questions about preventive treatment for your child. Talk to their dentist about tooth-strengthening fluoride treatment or protective dental sealants.
A visit to the dentist before the end of summer is an excellent way to begin the new school year with a happy, healthy smile, so be sure to add a dental checkup to your back-to-school checklist!
About the Author
A proud graduate of the University of Fayetteville and the University of Tennessee in Memphis, Dr. Don M. Chaney has been providing superior dental care to families in Fayetteville since 2003. With an equal commitment to preventive, restorative and cosmetic dentistry services, Dr. Chaney strives to help give every patient the smile of their dreams. For more information about Dr. Chaney and his practice, visit his website today or call the office at +1 479-442-3144.
Comments Off

on Why Kids Should See a Dentist in Fayetteville This Summer
No Comments
No comments yet.
RSS feed for comments on this post.
Sorry, the comment form is closed at this time.