February 15, 2019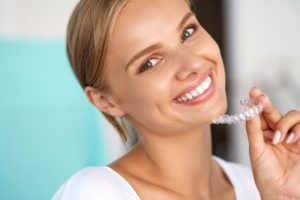 As you may notice on TV or social media, mail-order clear aligners have become incredibly popular. These clear plastic aligners promise amazingly straight teeth in a discreet way, at a price that is less than Invisalign with a professional dentist. However, these mail-order aligners come with some risks that you should be aware of. Keep reading to learn why you should always see a dentist for Invisalign in Fayetteville.
Why Are People Choosing Mail-Order Aligners?
It's no wonder why these aligners has become so popular. Their clear aligners are marketed everywhere, plus, they promise amazing results for less cost, without even having to see the dentist! If this convenient and affordable smile-straightening option sounds too good to be true, that's because it could be.
With these aligners, you simply take impressions of your teeth and send them back to the company for your clear plastic aligning trays. They will then send you your aligners, where you will wear them as directed. Once your time of wearing them is up, you'll have beautifully straight teeth. However, some patients report that it has hurt their smile more than helped it.
The Downside of Mail-Order Aligners
While these aligners boast many advantages, they're not effective in treating some more complicated dental conditions or alignment issues. Additionally, mail-order aligners don't assess your health before starting the process. If you skip the regular checkup and preparation process with your dentist, you may have issues like cavities and gum disease that can negatively impact your aligning treatment.
Last but not least, if something goes wrong with your treatment or your aligners themselves, the customer service hotline isn't going to replace a dental professional. Dental experts understand oral health much better than someone trained to speak to you on the phone.
Why You Should See Your Dentist
The biggest benefit of seeing your dentist before undergoing Invisalign treatment is their oral health expertise. If you have infection, gum disease, decay, or other dental issues, your cosmetic dentist in Fayetteville will be able to treat those problems first. This sets you up for a successful Invisalign treatment process. Additionally, your dentist will be able to check your smile along the way to make sure your teeth are shifting into alignment properly, eliminating the risk of a more crooked smile.
If you're considering straightening your smile, a trip to a dental professional is worth the investment in a beautiful grin for a lifetime. Contact your dentist today to get started on a gorgeously straight smile.
Meet the Dentist
Dr. Don M. Chaney is a proud Arkansas native who loves providing quality dentistry for the patients in his community. He takes pride in offering Invisalign clear braces to straighten smiles and boost confidence. He currently runs his own practice, and he can be contacted through his website for any questions you may have.
Comments Off

on Why You Should See Your Dentist for Invisalign in Fayetteville
No Comments
No comments yet.
RSS feed for comments on this post.
Sorry, the comment form is closed at this time.