February 29, 2016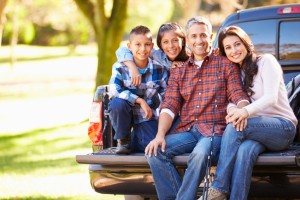 You know everyone in your family needs a good dentist to maintain healthy smiles, and did you know family dentists are devoted to providing dental care for all ages? It's true — you and your loved ones can benefit from convenient, quality dental care under just one roof. So how do you choose the best family dentist in Fayetteville, AR? We've got some tips to help you feel confident you're making the right decision.
A Good Family Dental Practice…
#1: Values experience and continuing education
All dentists are qualified to work on teeth based on their completion of dental school and a residency program. You could say what sets the best dentists apart from the rest is the experience they gain through a commitment to continued growth throughout their careers. Search for a family dentist who has plenty of experience performing the services you need, and look to see if they're involved in any professional organizations. Involvement in groups like the American Dental Association or the Arkansas Dental Association shows your dentist is interested in staying up-to-date with the latest in dentistry.
#2: Offers a variety of services
Maybe no one in your family needs periodontal therapy or emergency dentistry right now, but you never know when someone will — and you don't want to have to start your search for a dentist all over again when the time comes. Make sure the family dentist you choose offers a variety of services to ensure you will have your dental needs met now and for years to come.
#3: Fits your schedule
Perhaps the best dentist is the one that meets the needs of your busy schedule. Why? Because you're far more likely to schedule and maintain appointments when they're not a hassle. Choose a practice that's located near home, school or work, and make sure they're open when you need them to be. Can't make regular office hours? See if they can accommodate your needs — and if not, keep looking.
#4: Just feels right
It's a good idea to visit the dental practice before you schedule your appointment. How does the office feel? Are you welcomed warmly upon entrance, or is the staff too busy to greet you? Is the office big, small or just right? Taking the time to get to know your dental team and their facilities can help you make the best decision for you and your family.
In your search for the best family dental practice in Fayetteville, check out Don M. Chaney DDS. Dr. Chaney and his staff have the passion, experience and quality facilities your smiles need. Call us to schedule your appointment and benefit from the wonderful care offered by the best family dentist in Fayetteville!
No Comments »
No comments yet.
RSS feed for comments on this post.
Leave a comment