April 1, 2016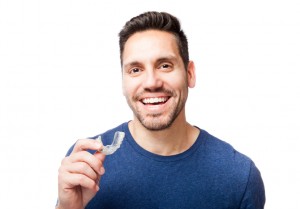 Do you have questions about the Invisalign system? You're not the only one wondering about clear braces for adults. Dr. Chaney has compiled a brief FAQ to help you understand just how it works — keep reading for more on Invisalign in Fayetteville!
Q: What is the Invisalign system, and how do clear braces work?
Dr. Chaney: Invisalign is an orthodontic treatment that uses a series of clear, plastic aligners instead of metal brackets and wires to gradually shift your teeth into place. The trays are fully-customized to your unique smile, creating precise pressure on the areas that need realigning. It's a faster, more discreet alternative to traditional braces — an option that's perfect for busy adults and teens who may experience lower self-confidence as a result of traditional braces.
Q: How does the Invisalign treatment work?
Dr. Chaney: To prepare you for your Invisalign system, we'll first create an effective treatment plan by taking a series of photos and impressions of your mouth to determine the best method for realigning your teeth. Then we'll send this important information off to the Invisalign lab, where your unique aligners will be created.
Once your trays are ready, you'll receive your series in the mail — and you can begin wearing them immediately. You use each one for about two weeks before advancing to the next in the series, each time one big step closer to your new and improved smile.
Q: How do I take care of my Invisalign aligners?
Dr. Chaney: Good question! For effective treatment, it's vital that you keep your aligners in perfect shape. Consider investing in the Invisalign Cleaning system, which is specially formulated with crystals that remove plaque in just 15 minutes. If not, clean your aligners with lukewarm (never hot!) water and a non-abrasive toothpaste.
Q: How will Invisalign affect my life?
Dr. Chaney: Fortunately, because Invisalign trays are removable, you'll still be able to eat and clean your teeth just like you're used to. In fact, many patients notice little to no effect once they are accustomed to wearing the Invisalign trays. You may, however, experience a slight lisp while wearing your trays, and discomfort may be present as your teeth begin to shift into the preferred position. But once your treatment is complete, you'll experience the wonderful effects of a straighter, more beautiful smile — for life!
Q: Why should I trust Invisalign?
Dr. Chaney: These days, you've got several options when it comes to discreet orthodontics — but more than 3 million people worldwide have trusted Invisalign to improve the alignment of their smile. It's an FDA-approved orthodontic treatment that we've been using for years to help adults and teens in Fayetteville enjoy the straighter teeth everyone deserves. We offer Invisalign at our office for one reason — because it works. Call our office to learn more about your options with Invisalign today!
No Comments »
No comments yet.
RSS feed for comments on this post.
Leave a comment