July 20, 2016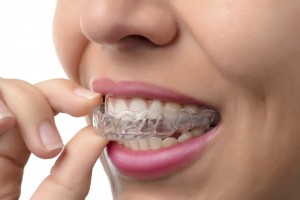 What's the first thing you notice about someone when you meet him or her for the first time? If you're like most people, then you pick up on the characteristic that you want to have. For instance, if a smile with straight teeth is your desire, then you probably notice that first. Dr. Chaney and his staff want you to know that it's never too late to have a straight smile. With Invisalign, Fayetteville residents can enjoy the cosmetic and oral health benefits of straight teeth without having to endure the hassle of traditional metal braces.
What is Invisalign?
Invisalign is an orthodontic system that can correct most any alignment problem, but instead of using metal brackets and wires this treatment relies on clear plastic aligners to gradually move your teeth. The aligners are arranged in pairs—one for the upper arch of teeth and one for the lower. As you progress from one set to the next, you see your smile become straighter and straighter.
What are the advantages of Invisalign?
The primary advantage is right there in the name—Invisalign aligners are practically invisible. Made of clear PBA-free plastic, they are designed to be discrete in both professional and social settings.
In addition, Invisalign clear braces from your dentist in Fayetteville are removable. This means that you can eat all the foods you enjoy without any restrictions. Want a bucket of popcorn at the movies? Or how about crudités of carrots and celery? No problem—remove your aligners for meals and snacks. And because your aligners are removable, keeping your teeth clean is much easier, too. You'll be able to brush and floss as usual without any brackets or wires in the way.
How do I get my Invisalign clear braces?
Dr. Chaney works collaboratively with the Invisalign lab to design aligners that will address your orthodontic needs. The process begins with a series of digital x-rays, photographs and molded impressions of your teeth. Using these as a guide, Fayetteville dentist Dr. Chaney develops a treatment plan that directs the development and fabrication of your customized aligners.
When they arrive, we'll dispense your aligners in groups. All you have to do is wear each pair for about two weeks and then advance to the next set in the group. The success of your orthodontic treatment does largely depend on strictly wearing your Invisalign aligners all day every day, except for when you want to eat or brush and floss. Following this schedule, most of our patients complete treatment within two years.
Call Our Office Today
If you would like to learn more about Invisalign, or if you are ready to schedule a consultation with Dr. Chaney, then call our dental office in Fayetteville, AR, today.
No Comments »
No comments yet.
RSS feed for comments on this post.
Leave a comment